Southwest Community Corporation I.T. Bookman Community Center
| | |
| --- | --- |
| | |
Southwest Community Corporation
I.T. Bookman Community Center
446 Randolph Street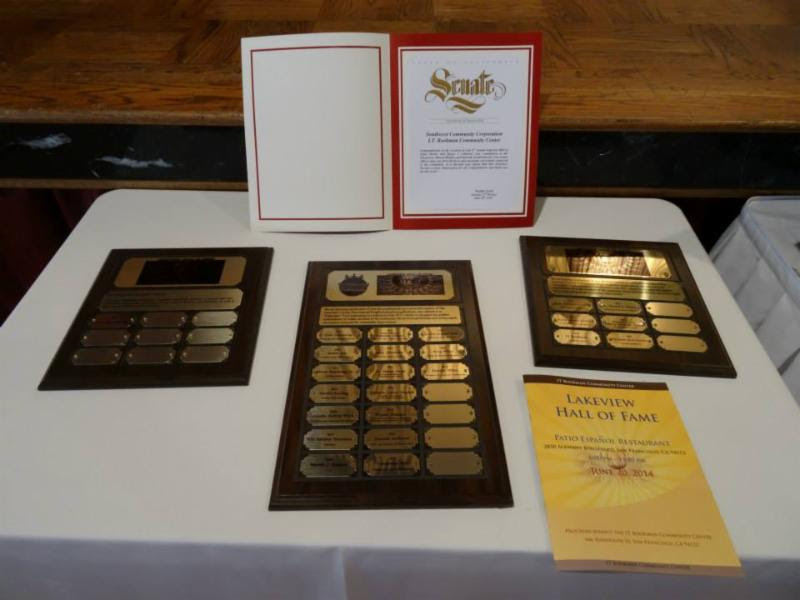 Supporting I.T. Bookman Community Center
Southwest Community Corporation Board of Directors, Carl Barnes, President,Gale Roboso, Secretary, Joyce Watson, Treasurer, Sharon Page-Pressley, Psy.D., and Barbara Lee extend specials thanks to State Senator Mark Leno and Supervisor John Avalos for assisting in saluting the Lakeview Hall of Fame honorees. Certificates of Honor were presented by their respective offices.
The
June 20th
event at
Patio Español Restaurant - Banquet
brought together community leaders, and family and friends of Lakeview Hall of fame inductees:
Coraetta McIntyre Smith
,
Cheyenne Bell
, (Posthumously),
Donald Andrews
,
Ronald Wiley
, (Posthumously),
King Wiley
and community service awardees:
Members of UCC Pilgrim Community Church
(Visionary Award),
Top Notch Black Coalition
(Continuing Service) and
Nimatullahi Sufi Order Service Committee
(Diversity and Inclusion Award).
Dr. Rhoss Top Hat Production provided entertainment for dining and dancing including retro videos and music of Grover Washington Jr. , Michael Jackson, Donny Hathaway, Roberta Flack, The Spinners, The Four Tops, Isaac Hayes and many others.


Serving Oceanview, Merced Heights, Ingleside, San Francisco and the wider Bay Area with its programs that spans all age groups, from youth to seniors, I.T. Bookman Community Center, is among San Francisco's first public/private partnerships. The vision began late community leader I.T. Bookman, Pilgrim Community Church and then San Francisco Mayor Dianne Feinstein.
Click Here for more photos of the event by volunteer Celeste Jones and Board member Sharon Page-Pressley, Psy.D:
https://www.facebook.com/ItBookmanCommunityCenter?sk=photos_stream
Support the on-going work of I.T. Bookman Community Center donate now

or visit www.itbookmancenter.org to make your investment in community service. Make your gift of any amount significant to you. Join seniors like Mrs. Margie Earles who has committed to donating $10 a month. "I think it's important to be here for the center because the center is here for us." Mrs. Margie Earles.
I.T. Bookman Community Center's New Look-Thank You Habitat for Humanity and Rebuilding San Francisco Together
Volunteers of Habitat for Humanity Greater San Francisco have given the center at the corner of Randolph and Arch a new and improved look by painting the building and rebuilding a new shed in the court yard. We salute Habitat for Humanity GSF Executive Director, Phil Kilbridge and team including Sarah Brissenden-Smithand Andrew Wilson, who worked closely with Rebuilding San Francisco Executive Director Karen Nemsick to get the project underway. Special thanks to the hands on volunteers who designed the project, primed, painted, hammered and did all the "rubber meets the road" community investing work for the center's new facelift. And thanks to Supervisor John Avalos and office for the community support given through the OMI Community Collaborative. Also, Community Action Grants from Avalos' office have helped to make the Senior Luncheons a new mainstay for the community.
Hope for a Home in San Francisco? Congratulations to Habitat for Humanity Greater San Francisco for its home buying workshop held recently at Minnie and Lovie Ward Recreation Center. I.T. Bookman Community Center looks forward to hosting a workshop in the future as well as part of its Prosperity Series. Stay tuned. For more information about the Habitat for Humanity Greater San Francisco "Own a Home" application process visit:
http://www.habitatgsf.org/applyforahome#.U9LfyhZ0bwI
.
I.T. Bookman Monthly Senior Luncheon
The
Last Friday
of the Month
As a Father's Day Salute June's Luncheon included a Belly Dancer. Activities were coordinated by volunteer Mary Spurlock. (photo by Michael Perkins)
Sponsored in part by the City and County of San Francisco Aging and Adult Services Department, Rebuilding San Francisco Together OMI Community Action Grant via Supervisor John Avalos' office and Nimatullahi Sufi Order Service Committee, the I.T. Bookman Community Center's Monthly Senior Luncheons, established by former Interim Director, Dr. Harold Pierre, Pastor of Pilgrim Community Church, has become a mainstay for seniors to enjoy nutrition, good information and good times on the
last Friday
of each month at
12 noon
.
June's Luncheon also included a fashion show organized by Volunteer Mary Spurlock in Tribute to Father's Day and something the ladies enjoyed. (photo by Michael Perkins)
*************************************************************************************************
Carl Barnes, 25 year veteran of the San Francisco Fire Department with mother, Mrs. Willie Jean Barnes during happier times. The mother of six and wife of Mr. Aaron Barnes for over 62 years will be deeply missed by family and friends.
The smiling face and gentle spirit of Mrs. Willie Jean Barnes (mother of Southwest Community Corporation Board Chairman, Carl Barnes, a fire fighter and SF first responder will be greatly missed. A moment of silence was held in her honor at today's senior luncheon as it was noted that "Home Going Services: "Celebration of the Life of Willie Jean Barnes, June 1, 1926-July 14, 2014 "A Full, Compete and Perfect Life" were held at Skylawn Memorial Park in San Mateo County on Monday, July 21. See the tribute on the I.T. Bookman Facebook Page with link to the SF Chronicle obituary:
https://www.facebook.com/ItBookmanCommunityCenter?ref=br_tf.
*************************************************************************
A Couple of Scenes from Today's
I.T. Bookman Community Center Senior Luncheon
Lakeview Hall of Fame Diversity and Inclusion Award Recipient Nimatullahi Sufi Order Committee, was honored at the June event, but today the hands on volunteers that serve seniors monthly were recognized. Flanked by Gil Brigham , Senior Programs Coordinator and Jackie Wright, Executive Director, the SUFI Service Committee was given kudos for their dedication with certificates of honor from Senator Mark Leno and Supervisor John Avalos.
Seniors broke out into spontaneous line dancing at today's luncheon. What fun! Were they inspired by SUFI's fabulous menu? It included Collard Greens grown in the OMI Community Garden, Shrimp & Sausage laden Jambalaya made with Couscous (Here's a recipe but probably not as good as SUFI's:http://www.recipe.com/shrimp-and-couscous-jambalaya/) , green fried tomatoes and peach cobbler? As a reminder Line Dancing is every

Tuesday at 12:30 p.m.

at I.T. Bookman. (Photo courtesy of Michael Perkins).
AIDS WALK Volunteer Deloris McGee Shared Her Experience
"I walk because it is the right thing to do, I walk because some people do not have feet to walk, I walk for the health of all people. I am happy to be in a position to do this for others otherwise they might be doing it for me. "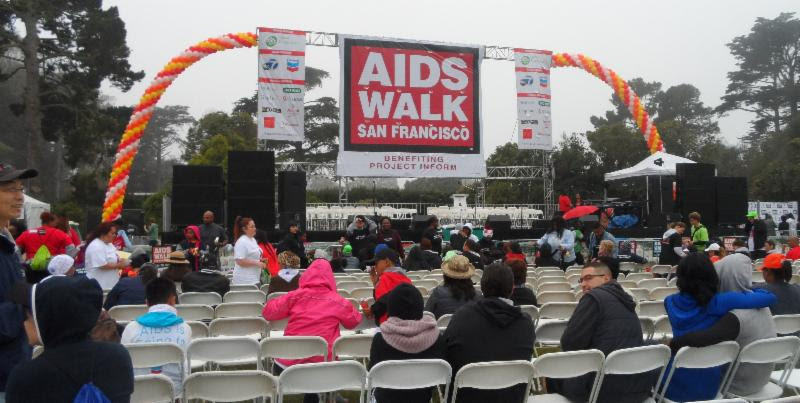 Zoom Zoom to Zumba at other activities at
I.T. Bookman Community Center
It's Free
Zumba Class at I.T. Bookman Community Center. Check it out

Thursday evenings 7 p.m.

Call 415 586-8020 for more information.
Create Your Own Event at I.T. Bookman Community Center
Public Service Announcement for broadcast, agencies and organizations :
BOOK IT @ BOOKMAN
BOOK IT@BOOKMAN! THE I.T. BOOKMAN COMMUNITY CENTER, THE JEWEL OF THE O.M.I. IS THE PERFECT PLACE TO HAVE YOUR RECEPTIONS, PARTIES, BAR MITVAHS, BAT MITVAH'S, BABY SHOWERS, QUINCEANERAS, ANNIVERSARIES, YOU NAME IT. "BOOK
IT@BOOKMAN!" PLAN YOUR SPECIAL OCCASION AT I.T. BOOKMAN COMMUNITY CENTER WITH COMMUNITY FRIENDLY PRICES! CALL 586-8020. "BOOK IT@BOOKMAN.
Thank you for announcing at your church, synagogue,
mosque or other organization!

Michael Perkins, Facilities Manager

I.T. Bookman Community Center
415.586.8020

Office space is available for rent at I.T. Bookman, in addition to rentals for your special events.




If it's time to take your small business to the next level, rent an office at I.T. Bookman Community Center.


Stories High Movement Workshop
BINDLEBLAST ALERT
the latest news from Bindlestiff Studio
an epicenter of Filipino American Performing Arts
Stories High Movement Workshop
with Ryan Marchand

When: Jul 26-27 10am - 3pm
Location: Jul 26: SOMArts 934 Brannan St.
Jul 27: Bayanihan 1010 Mission St.
Cost: $25 - $100
Workshop participants will be introduced to the Viewpoints as they relate to ensemble composition and performance. Together we will establish a common vocabulary that will allow us to implement rigorous physical improvisation. Through the exercises we will focus on creating greater connection with our bodies, therefore establishing and enhancing the ensemble dynamic. This will result in stage compositions devised by, and performed for participants. Click here for more info...
MARAMING SALAMAT
Bindlestiff Studio Thanks You!
From the bottom of our collective hearts, the Folks at Bindlestiff express our sincere gratitude & love to all who have been supporting our fundraising efforts. Through your generous pledges & donations we are rolling steadily towards our goal. WE CONTINUE TO NEED YOUR HELP. In order to survive and pay our facilities costs, we rely on the generosity of our donors to keep the doors of the new Bindlestiff Studio open. If you'd like to help, just follow these simple instructions:Just
1) Log onto our website:

www.bindlestiffstudio.org

2) On the right-hand side of our front page, click on "SUPPORT THE 'STIFF"
3) Donations are securely made via PayPal.
If you would like more information on how to participate in our fundraising programs, please email .
PO Box 190205
San Francisco, CA 94119
Art Show
24 hour fitness job fair
24 hour fitness JOB FAIR
Vaness location
7/25/14
11:00am - 2:00pm
Dress Professionally
Bring Multiple copies of your resume (5 recommended)
Be prepared to meet up to twelve 24hour fitness site managers.
GOOD LUCK